Swimwear
GX/SONIC IV ST Half Suit for WOMEN
Details
https://www.mizuno.com/my/en-us/gx%2Fsonic+iv+st+half+suit+for+women-N2MG9201.html
Additional Information
■FINA (International Swimming Association) approved
■Inseam: 24cm (M size)
※Due to the nature of the woven fabric and the high compression design, this swimsuit is different from other swimsuits and may take longer to wear.
Mizuno's GX/SONIC series of top lace swimwear is equipped with Flat Swim Technology, which is an evolution of Mizuno's proprietary low resistance fabric. The Sonic Light Ribtex II is an advanced version of Mizuno's proprietary low resistance fabric that reduces friction and weight. Dynamic analysis method "musculoskeletal simulation" adopted to design the lining area and cross-shaped support lines.
The Mizuno women's GX-Sonic IV ST technical suit is engineered for speed.The Sprinter (ST) model is designed exclusively for short distance sprints offering a hip lift sensation and optimal compression throughout core.
[Flat Swim Technology] Reduces the resistance on the body by keeping a flat posture. By supporting the muscles from the torso and hamstrings to the hips and keeping a flat posture with less water resistance, it greatly reduces the resistance of water.
[Sonic Light Ribtex II] New fine lines have been added to the uneven surface structure of the SONIC LIGHT RIBTEX used in the GX Sonic III to reduce surface friction resistance by approximately 2.6%. It is also approximately 3.2% lighter than the GX SonicIII. (*Compared with GX and SONICIII / Toyo University research)
[Sonic Line Design-X]
Large lining support area and cross-shaped tape design provides support around the sacrum (reducing most hamstring strains) and for internal hip rotations (further reducing muscle strain in the hamstrings and the quadriceps (in the front of the thigh)).
CARE INSTRUCTIONS:
・Do not tumble dry.
・Due to special fabric and construction, coloring and texture will vary with each suit.
・Suits are constructed using a special method in which fabric edges are bonded with tape.
・This tape may stretch or break if pulled strongly or excessively, or if swimmer is wearing the improper size. ・Please use suggested sizing charts and select your swimsuit size carefully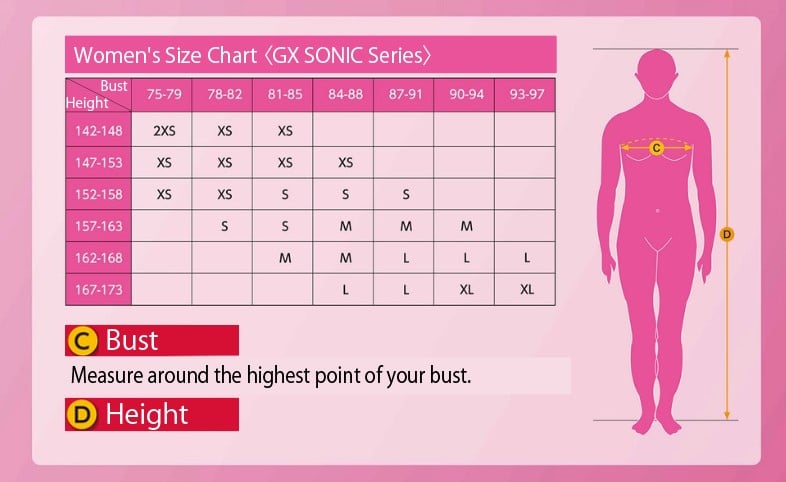 Country of Origin:
China/Japan