Running
WAVE SKY 4 2E MEN
Details
https://www.mizuno.com/sg/en-us/wave+sky+4+2e+men-J1GC2011.html
S$ 239.00
S$ 167.30
(Discount Amount : SGD 71.70)
Additional Information
FLOATING RUN
You'll feel like you're floating with this soft, lightweight shoe. Has all the features you want from Mizuno
including Mizuno Enerzy, Foam Wave, and premium sockliner.

Benefits:
• XPOP and Mizuno Enerzy provide a floating feeling during running
• FoamWave provides stability to runners
• Engineered mesh provides a soft fit and breathability
• This is wide model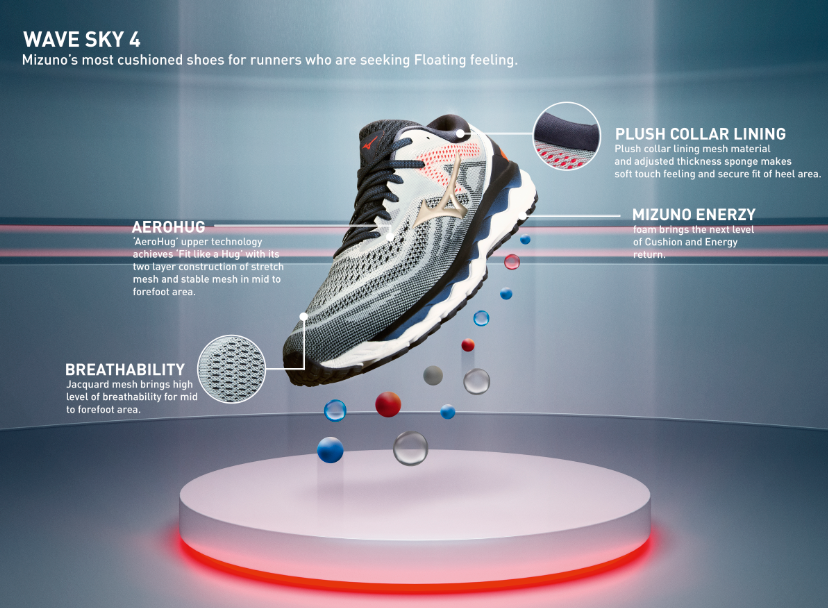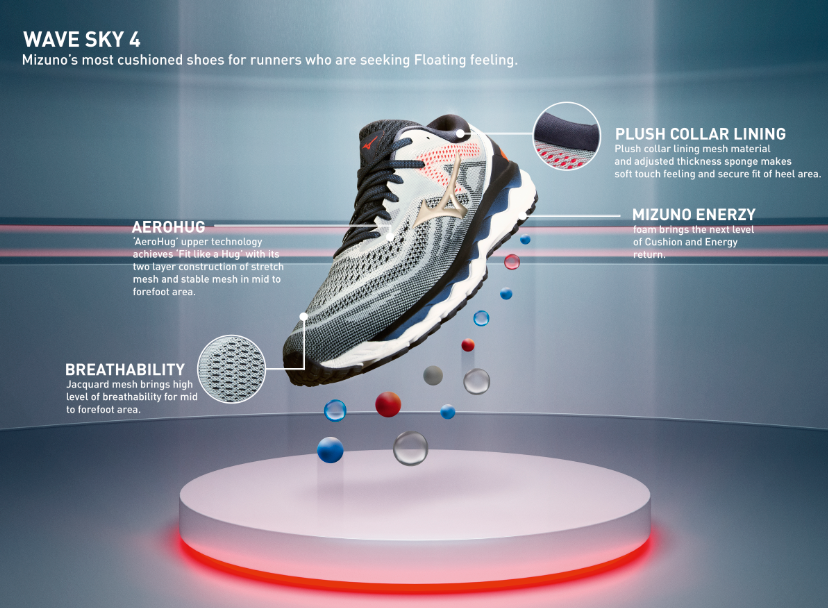 Enerzy Running Shoes Line-Up (Men)

WAVE DUEL NEO
WAVE RIDER 24
WAVE RIDER NEO
WAVE SKY 4
WAVE SKY NEO
WAVE SHADOW 4
MIZUNO ENERZY
MIZUNO ENERZY LITE
MIZUNO ENERZY
MIZUNO ENERZY
MIZUNO ENERZY
MIZUNO ENERZY +
MIZUNO ENERZY CORE
MIZUNO ENERZY
MIZUNO WAVE
〇
CUSHIONING
★★☆☆☆☆
★★★★☆☆
★★★★☆☆
★★★★★☆
★★★★★★
★★★☆☆☆
SPEED
★★★★★★
★★★★☆☆
★★★★★☆
★★★☆☆☆
★★★☆☆☆
★★★☆☆☆
Sub 3.0 - 3.5
Sub 4.5 - 6.0
Sub 4.0 - 5.0
Sub 5.0 - Completion Level
Sub 5.0 - Completion Level
Sub 3.5 - 4.5
SIZE RANGE
US6.5~10
US7~11.5
US7.5~11.5
US7.5~11.5
US7.5~11
US5~11
WEIGHT
about 195g(US9 each)
about 275g(US9 each)
about 270g(US9 each)
about 345g(US9 each)
about 345g(US9 each)
about 260g(US9 each)
WIDTH*
E
E~2E
E
E~2E
E
E
*WIDTH E= Normal Width, 2E= Wide Width

Mizuno Wave
Unique technology that provides both cushioning and stability and can be engineered for all types of runners.

Premium Insock
High-grade removable insock for premium comfort, cushioning and durability.

X10
The most durable carbon rubber that allows for longer wear in high impact areas and supplements traction at heel strike.
AIRmesh
Provides the utmost in breathability and comfort of the upper.

Mizuno Intercool
Full-length midsole ventilation system reduces heat and humidity build-up inside the footwear.

SmoothRide
Engineering approach to minimise the rapid acceleration and deceleration of the foot during transition, creating the smoothest ride possible.

U4ic
A unique midsole compound that rides and cushions like Mizuno's AP+ midsole, but is approximately 30% lighter without any loss of comfort or performance.

U4icx
Light evolutionary midsole delivers a more comfortable cushioned ride with higher rebound, thus fulfilling the most comfortable energized ride.

XPOP
A completely new type of midsole compound that delivers cushioning, rebound and durability at a high level. The exquisite harmony of the super soft and advanced cushioning with high energy return makes you feel as if you are floating on water. This material offers you a running experience with superior comfort that you've never experienced before.

Mizuno ENERZY
Midsole material with excellent softness and resilience.

AeroHug
The new MIZUNO upper technology holds the foot stable during the run for a secure fit and an unrivalled comfort. A soft fabric mesh stretches and wraps around the foot to create the most comfortable ride.
Color:
Black / Castlerock / Cool / Silver  Phantom / Castlerock / Safety Yellow