Mizuno 112th Anniversary
BECOME A MIZUNO MEMBER AND RECEIVE 15% OFF COUPON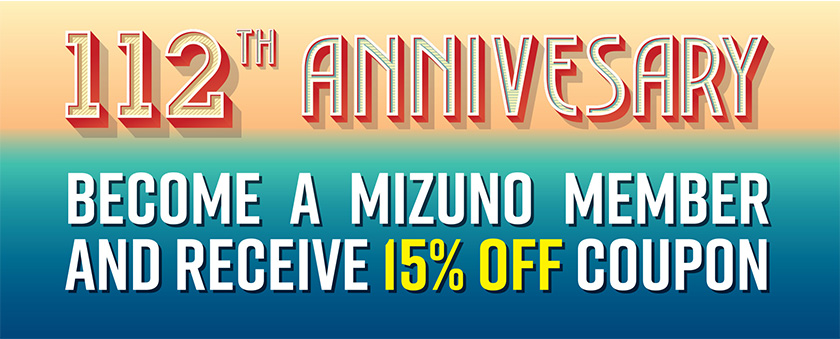 CAMPAIGN PART 1
BUY ONE TO RECEIVE GIFT
4/1 - 4/9
Purchase below items* to receive gift.
*Discount items do not apply.

Running Shoes - Receive Arm Pouch
Rebula - Receive Shin Guard
Volleyball/Badminton Shoes - Receive Knee Pad

CAMPAIGN PART 2
SHARE ON INSTAGRAM TO RECEIVE GIFT
4/10-4/30

1.TAKE PICTURE WITH A MIZUNO ITEM
2. SHARE IT ON INSTAGRAM USING THE HASHTAG #MIZUNO112TH
*INSTAGRAM PROFILE HAS TO BE SET TO PUBLIC

FIRST 20 PEOPLE WHO POSTED PICTURE WILL RECEIVE WAIST POUCH S.
*WE WILL CONTACT YOU VIA INSTAGRAM MESSAGE FOR SHIPPING ADDRESS.

CAMPAIGN PART 3
REGISTER TO RECEIVE 15% OFF COUPON
4/17-4/30
REGISTER FROM HERE.
WE WILL EMAIL YOU 15% OFF *COUPON CODE.
*THE COUPON CANNOT BE USED FOR DISCOUNT ITEMS.
HISTORY OF MIZUNO
PURSUING PERFECTION SINCE 1906
FOUNDED IN 1906, OSAKA JAPAN
Rihachi Mizuno and his younger brother Rizo found MIZUNO Brothers Ltd. in Osaka. This was the start of the 100 years journey to pursue perfection.
THROUGH CONTINUOUS IMPROVEMENT
The difference between something good and something great is attention to detail. Mizuno not only supports sporting activities by offering better sporting goods but also develops products and services that make the most of the value of sports and actively spread that in daily life.

While it started out selling mostly baseball gear, Mizuno expanded its offering greatly, creating equipment and clothing for tennis, golf, skiing, track and field, boxing, soccer.
MIZUNO AS AN EXTENSION OF YOU
Whether your running or playing sport, you are always competing.
Choose a brand that's on the same quest for perfection.
An extension of your body and your drive to win.
THERE IS NO CHALLENGE TOO GREAT
We understand what an athlete needs - testing and re-testing products, competing, tiring professionals,
exhausting new materials.
All to give you the POWER TO PERFORM. We've run your race already, played every match, anticipated every step,
kick, throw, shot.
Every opportunity for you to move. It's up to you to take it further!