Promotions
Running
WAVE RIDER 24 D WOMEN
Details
https://www.mizuno.com/th/en-us/wave+rider+24+d+women-J1GD2006.html
THB 4,100
THB 2,050
(Discount Amount : THB 2050.00)
Additional Information
SMOOTHEST RIDE EVER
Achieve dynamic movement with this shoe perfect for general runners. The Mizuno Enerzy heel wedge and Mizuno Wave technology combine for a buoyant running experience.
Benefits:
• Mizuno Enerzy heel wedge provide softer and bouncier heel cushioning. Covering the shank area with Mizuno Enerzy enhances smoother and softer transitions
• Mizuno Wave delivers cushioning, stability and response for smooth runs
• Engineered air mesh provides a soft fit and breathability
Less Carbon Emission Material:
• Bio Based Nylon Material Wave Plate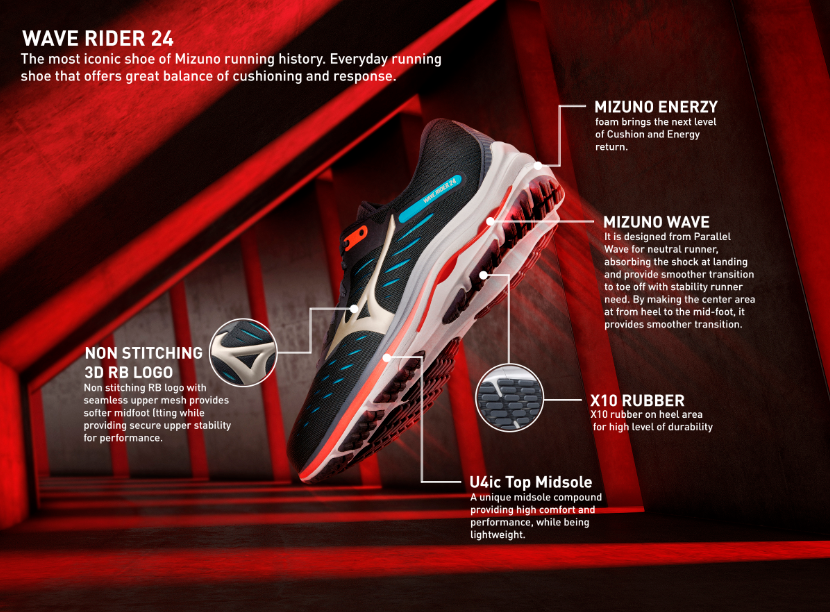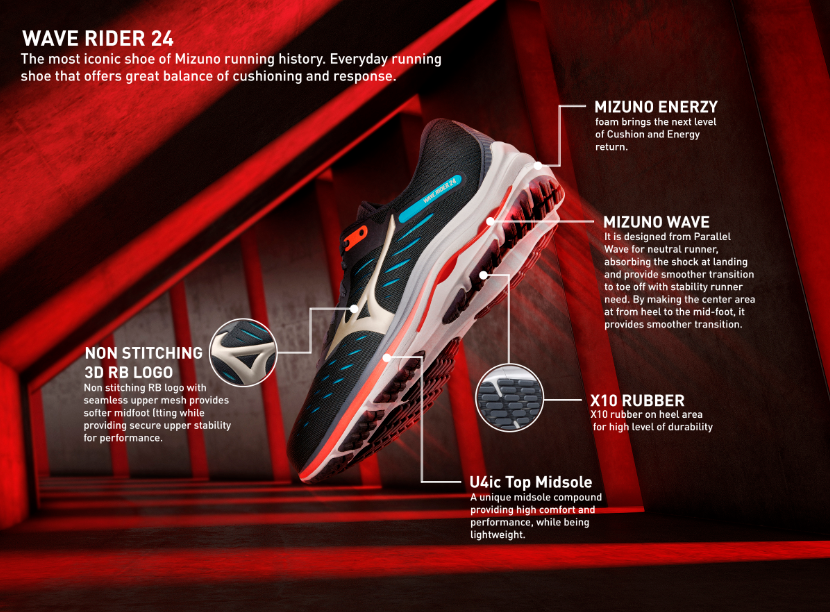 Enerzy Running Shoes Line-Up (Women)

WAVE RIDER 24
WAVE RIDER NEO
WAVE SKY 4
WAVE SKY NEO
WAVE SHADOW 4
MIZUNO ENERZY
MIZUNO ENERZY
MIZUNO ENERZY
MIZUNO ENERZY
MIZUNO ENERZY +
MIZUNO ENERZY CORE
MIZUNO ENERZY
MIZUNO WAVE
〇
CUSHIONING
★★★★☆☆
★★★★☆☆
★★★★★☆
★★★★★★
★★★☆☆☆
SPEED
★★★★☆☆
★★★★★☆
★★★☆☆☆
★★★☆☆☆
★★★☆☆☆
Sub 4.5 - 6.0
Sub 4.0 - 5.0
Sub 5.0 - Completion Level
Sub 5.0 - Completion Level
Sub 3.5 - 4.5
SIZE RANGE
USW7~10.5
USW7~9.5
USW7~9.5
USW7~9.5
US5~11 *2
WEIGHT
about 235g(US6.5 each)
about 225g(US6.5 each)
about 285g(US6.5 each)
about 285g(US6.5 each)
about 260g(US9 each)
WIDTH*1
D
D
D
D
E
*1 WIDTH D= Normal Width, E= Wide Width
*2 This is UNISEX moedl. Size range is based on US standard.

Mizuno Wave
Unique technology that provides both cushioning and stability and can be engineered for all types of runners.

X10
The most durable carbon rubber that allows for longer wear in high impact areas and supplements traction at heel strike.

SmoothRide
Engineering approach to minimise the rapid acceleration and deceleration of the foot during transition, creating the smoothest ride possible.

U4ic
A unique midsole compound that rides and cushions like Mizuno's AP+ midsole, but is approximately 30% lighter without any loss of comfort or performance.

Mizuno ENERZY
Midsole material with excellent softness and resilience.
Color:
Ibis Rose / Platinum Gold / Mandarin Red 
Country of Origin:
Vietnam