Additional Information
Going so fast, they`ll only be able to see your shadow
Wave Shadow is the new revolutionary everyday fast go to shoe. Lightweight, highly responsive, and cushioned enough to keep you going fast.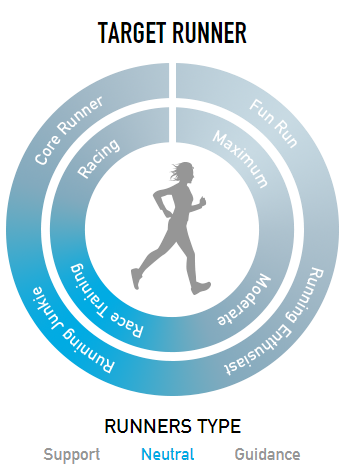 Experience #01:Lower offset for a faster feel throughout your run

Experience #02: Original flex groove design for a snappy , grippy toe off

Experience #03:Cloudwave construction specific for fast pace runners
SOLE:
A perfect blend of speed and comfort, the 8mm heel drop will gives you that "low-to-ground" feel of a racing shoe while a cushioned, supportive midsole provides a running shoe like comfort. The latest updates will not let you down on a fast run.

Cloudwave:Cloudwave provides a softer, smoother and a more responsive ride than ever before. Designed with the Parallel Wave as its base, neutral runners can enjoy a smoother transition from landing to toe-off.

Heel Drop: Sole unit with lower heel offset is designed to support natural motion and allow more efficient running.
ZigZag flex groove: The durable outsole with ZigZag flex grooves in the forefoot offers smooth flexibility and fast response with a snappy toe-off.
X10 on midfoot: X10 extended wider to provide durability for midfoot landing posture.

UPPER:
Pursuit of perfection & simplicity has taken to new heights in upper fit comfort. An internal toe cap with a one-piece mesh upper construction provides a seamless fit never experienced before.

Jacquard Mesh: Continuous Jacquard mesh for improved breath ability and added modern richness to the upper.
Premium Sock-liner: More anatomically engineered sock-liner with higher shell to hug heel and arch more snuggly.

Mizuno Wave
Unique technology that provides both cushioning and stability and can be engineered for all types of runners.

DynamotionFit
Using the latest motion capture and biomechanics technology, Mizuno's blueprint was designed to engineer shoes that work with the foot's gait cycle.

AP+
ap+, a lightweight midsole compound offering rebound and cushion durability, providing a high level of comfort.

X10
Durability and Traction. X-10 is an extremely durable Mizuno carbon rubber that allows for longer wear in high impact areas and gives more traction at the heel strike.

Mizuno Intercool
Cool and Dry. Mizuno Intercool solves the problem of heat and humidity build-up in a running shoe. It does this by incorporating a full-length ventilation system in the sole of the shoe that removes heat and humidity from the foot through a system of ventilation channels.

SmoothRide
An engineered approach to minimise the rapid acceleration and decelaration of the foot during transition, creating the smoothest ride possible.

U4ic
A unique midsole compound providing high comfort and performance, while being extremely lightweight.

U4icx
An evolutionary lightweight midsole that delivers stress-free cushioned rides with high rebounds. It gives an energised, euphoric and super comfortable run.

Mizuno Parallel Wave
Parallel Wave ช่วยมอบการกันกระแทกระดับสมบูรณ์แบบและการกระจายแรงที่ช่วยให้เท้าเคลื่อนไหวตามธรรมชาติ
เหมาะสำหรับลักษณะเท้าทุกชนิดที่ไม่ต้องใช้การรองรับมากนัก
จะกระจายแรงกระแทกอย่างสมำเสมอผ่านพื้นชั้นกลางและช่วยให้เท้าทรงตัวอยู่ตรงกลางพื้นรองเท้าได้พอดี