Additional Information
Going so fast, they`ll only be able to see your shadow
Wave Shadow is the new revolutionary everyday fast go to shoe. Lightweight, highly responsive, and cushioned enough to keep you going fast.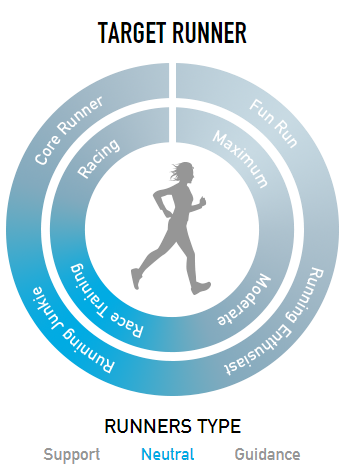 Experience #01:Lower offset for a faster feel throughout your run

Experience #02: Original flex groove design for a snappy , grippy toe off

Experience #03:Cloudwave construction specific for fast pace runners
SOLE:
A perfect blend of speed and comfort, the 8mm heel drop will gives you that "low-to-ground" feel of a racing shoe while a cushioned, supportive midsole provides a running shoe like comfort. The latest updates will not let you down on a fast run.

Cloudwave:Cloudwave provides a softer, smoother and a more responsive ride than ever before. Designed with the Parallel Wave as its base, neutral runners can enjoy a smoother transition from landing to toe-off.

Heel Drop: Sole unit with lower heel offset is designed to support natural motion and allow more efficient running.
ZigZag flex groove: The durable outsole with ZigZag flex grooves in the forefoot offers smooth flexibility and fast response with a snappy toe-off.
X10 on midfoot: X10 extended wider to provide durability for midfoot landing posture.

UPPER:
Pursuit of perfection & simplicity has taken to new heights in upper fit comfort. An internal toe cap with a one-piece mesh upper construction provides a seamless fit never experienced before.

Jacquard Mesh: Continuous Jacquard mesh for improved breath ability and added modern richness to the upper.
Premium Sock-liner: More anatomically engineered sock-liner with higher shell to hug heel and arch more snuggly.

Mizuno Wave
Unique technology that provides both cushioning and stability and can be engineered for all types of runners.

DynamotionFit
Using the latest motion capture and biomechanics technology, Mizuno's blueprint was designed to engineer shoes that work with the foot's gait cycle.

AP+
Amazing ride from Mizuno's midsole compound. cushioning and comfort levels that just go on feeling new due to a huge improvement in durability.

X10
The most durable carbon rubber that allows for longer wear in high impact areas and supplements traction at heel strike.

Mizuno Intercool
Full-length midsole ventilation system reduces heat and humidity build-up inside the footwear.

SmoothRide
Engineering approach to minimise the rapid acceleration and deceleration of the foot during transition, creating the smoothest ride possible.

U4ic
A unique midsole compound that rides and cushions like Mizuno's AP+ midsole, but is approximately 30% lighter without any loss of comfort or performance.

U4icx
Light evolutionary midsole delivers a more comfortable cushioned ride with higher rebound, thus fulfilling the most comfortable energized ride.

Mizuno Parallel Wave
The Parallel Wave offers the perfect amount of cushion and energy dispersion, allowing the foot to move in its natural motion.
Perfect for neutral‑foot types who don't need as much support.
Disperses the impact forces evenly throughout the midsole and keeps the foot centered on the shoe's platform.